Thru the Curb Drain Systems!

The Granger Curb Drain is the latest innovation in thru the curb (or under the sidewalk) curb drain systems. Featuring durable polymer construction via the rotational molding process, the curb drain offers long lasting curb appeal with easy installation! Whether its a new curb or repairing a chipped, cracked or misaligned cub, the Curb drain by Granger Plastics offers simple installation that allows for substantial savings in time, materials and effort!
Eliminate unsightly cracking, chipping or bowing curbs!
Once concrete curbs begin to deteriorate, they end up looking horrible in front of your home or business. At times, the detriment of the curb drain can lead to a potentially hazardous situation by creating a trip hazard, a potential to cut a pedestrian or even damage a vehicle or automobile by protruding into the road. The curb drain by Granger Plastics eliminates the worries of rusting or dangerous steel piping with its rotationally molded curb drain.
Easy Installation!
Reduce your expenses and labor with Granger's Curb Drain! Not only does the Curb Drain by Granger provide a longer lifespan than most thru the curb drain systems, it requires drastically less work to install!
Curb Appeal Without Breaking The Bank!
While the innovative design of the Granger Curb Drain allows for a much easier installation than most curb drain systems, its lower costs with a longer usable lifespan make it one of the most affordable and longest lasting thru the curb, or under the sidewalk curb drain systems! Read about the Curb Drain features here!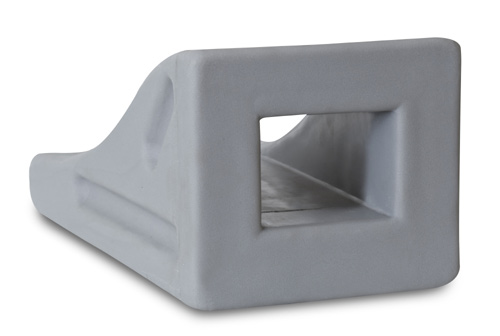 Avoid dangerous trip hazards, injuries or even auto damage!
| | |
| --- | --- |
| Imagine a neighborhood child playing in sandals or even bare footed and accidentally cutting themselves or tripping over the PVC as it pulls away from the concrete as pictured in the photo to the right. What about the possibilities of damaging a wheel or a tire on an automobile? Just the eventual fact that it will soon be unsightly and require labor intensive replacement due to UV degredation is enough problems in its own! Don't settle for less, go for the best with the Curb Drain from Granger Plastics. | |
Available in multiple colors!
| | | | | |
| --- | --- | --- | --- | --- |
| Grey | Grey Granite | Terra Cotta | Black | Forest Green |
Read more about the Curb Drain features and the curb drain colors here!